Transit-oriented small town renews itself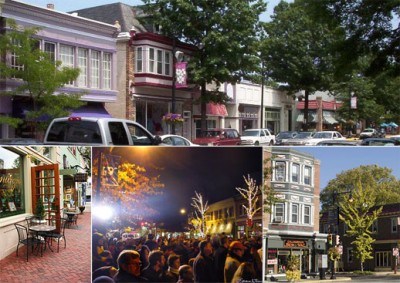 It's a familiar scene – you find housing you can afford near a mass transit line on the outskirts of a city, and the reason it's affordable is because few people will visit you. There's no there, there. For decades, Collingswood, New Jersey, neighborhood of 15,000 just outside of Camden, was just that. It suffered massive downtown vacancies like most other cities, even though it was served by a major transit line to Philadelphia. It hasn't helped that many are still averse to living or working in Camden, which sits in between Collingswood and Philly.
However, it has found the magic formula to become a walkable destination with a vibrant downtown, and the window of opportunity to buy attainably-priced homes is still there, but shrinking fast. How'd they do it?
The process is a very familiar one – as this previous entry, Attracting people to emerging main streets, provides in more detail. It starts with visionary entrepreneurs establishing destination local restaurants with great food and atmosphere. A farmers market complements them well, further making people feel comfortable just being in the downtown for longer periods of time, and thoroughly enjoying an entirely unique experience, followed by festivals celebrating the local culture.
Unfortunately, the city leadership seems determined to shift from attracting the creatives that helped the town's revitalization, and instead focus on wealthier families and those with executive positions. The city is incentivizing owners of duplexes that serve two households to convert them into single-families, and in a neighborhood where the average available home is $216,000, a public private partnership is developing a signature mixed-use project with 120 condominiums that start at $350,000 to $400,000. Of course, these were planned before the economic crisis, and creatives are well aware of how that may have been avoided.