Montreal pedestrianizes 12 blocks for the summer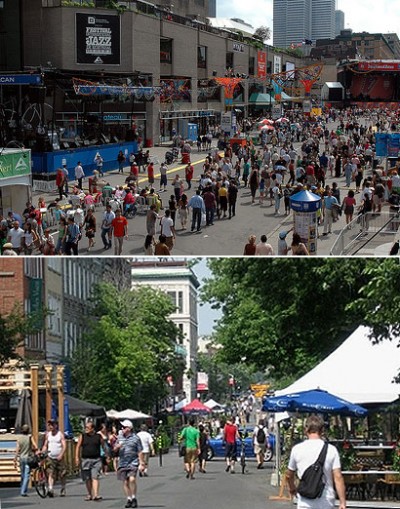 For those who relish the pedestrian-only districts that are prevalent in Europe, one need venture a little north to Montreal in the summers.
Twelve blocks surrounding Saint Catherine Street, one of the Canadian city's busiest corridors in the Ville-Marie neighborhood, were opened to pedestrians only (ie closed to cars) for the entire summer, transformed into a grand public square brought to life with outdoor cafes, sculptures and shoppers, creating an overnight cafe society.
What's most intriguing is that the street's 'pedestrian opening/car closing' was pushed through by the neighborhood merchant association, who benefit with larger crowds inhabiting their 45 venues.
The Montreal Gazette described the pedestrian district a 'resounding success'. Even skeptical businesses that were initially opposed changed their minds as their outdoor dining areas were packed every night.
No doubt, the merchants were thrilled, "It's amazing: all the people from the Jazz Festival, Just For Laughs and the Francofolies come here after the shows," said one merchant association representative, while a cafe owner effused, "It has worked out well, the street is neat, tidy and there are no rowdy people. In one month, I've sold more beer than I would normally in three months."