Hong Kong's tri-level pedestrian street system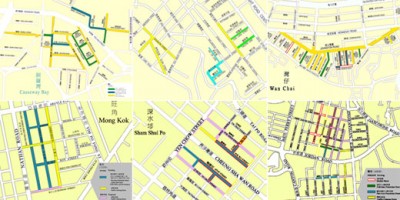 So if Copenhagen, Denmark is arguably the birthplace of the modern pedestrianization movement, what's the leading city as far as a contemporary pedestrianization plan? It'd be difficult to beat what Hong Kong has done since 2000.
As you can see in the plans above, Hong Kong's newly annointed pedestrian streets aren't just extensive within city districts, but extensive in districts throughout the city. Streets in green are pedestrianized full-time, blue is part-time, and those in yellow are traffic-calmed. For larger-sized plans check out the City of Hong Kong Transport Department's Pedestrianization website.
What's notable about Hong Kong's plan is that the City didn't ask the question, "Should we pedestrianize streets", but rather, "Which streets should we pedestrianize, and how much?"
The key criteria is the number and productivity of sources for pedestrian traffic such as subway entrances, markets, restaurants, shops, schools, and from that the three levels of pedestrianized streets, full-time, part-time and traffic-calmed are determined.
Read more in the Urbanphoto article, Pedestrian Streets, Hong Kong Style and a great overview with an exceptional set of photos (including before and after shots) in Streetsblog's Learning from a Streets Renaissance in Hong Kong by Ethan Kent.