Young renters want small spaces, big appeal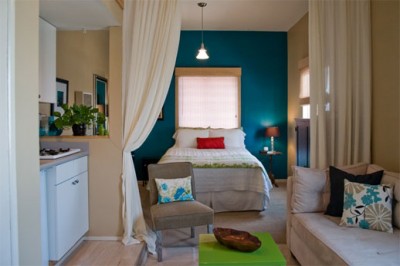 That's the headline for a recent USA Today article, as developers go smaller in response to emerging generations of buyers who have a fresher vision of the American Dream than previous ones. "The trend is here to stay", says Michael Newman, president and CEO of Golub & Co., an international real estate development and investment firm. "In this economy, people still want to be in cool places, and they'll trade down size for location."
Ho do developers compensate for less living area? Open floor plans to make the space look larger, large windows, and sliding doors and even curtains (pictured) instead of swing doors, plus community amenities like free wi-fi, juice bars and cafes to high-tech health clubs, Wii game rooms, rooftop terraces and guest rooms.
As stated in the article, the four events driving smaller apartments:
– Economic reality. As the financial crisis shows, we were building and buying homes we never could afford in the first place, and the worst is yet to come.
– Eco-consciousness. Smaller units not only take up less space and use less resources and energy, but if they're small enough (ie treated like single-room occupancies) they don't even require parking.
– Urban renaissance. Downtowns, cities, walkable urban life, being outdoors are in, keeping up with the Joneses in suburbia at home is out.
– Millennials. The front end of this generation, aka Gen Y, turn 26 and are looking to own their first homes, and thankfully, their vision of the American Dream is much more attainable sustainable.
Do you think this trend is here to stay? Vote on what you think is the biggest factor.
Image: A 294 s.f. apartment in Santa Monica.