Now that's a cafe for people watching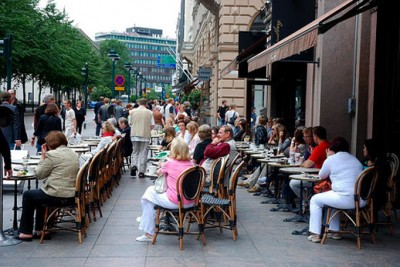 Helsinki, Finland's Esplanade Park is the city's grand natural stage, a central urban boulevard park that is at the heart of the city's pedestrian, recreational and shopping activity. So where's the best seat in the house to watch it all? That would be Cafe Strindberg.
Notice how its cafe tables and seats are line up theater style so you can relish your espresso or smoothie, soak up the sunshine, and sit and enjoy the live 'performing arts' that is people watching. It's a simple sign that people and urban life is to be celebrated.
Image by pistenstuermer.