Detroit's downtown bright spot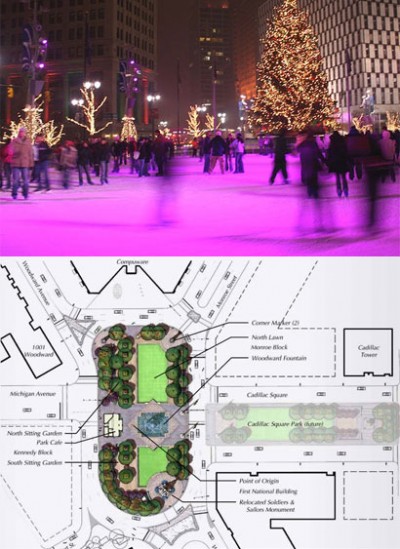 There may not be a lot going right economically in Detroit, but at least in 2001 then Mayor Dennis Archer set a goal of creating the best public space in the world. It resulted in a place for people in the heart of the motor city, Campus Martius, a 1.6-acre urban park that reminds its residents there's more to life than work.
You can read more about its creation in a previous entry here back in 2005, but what's happened since its opening in November 2004?
– 2.24 million s.f. of new or renovated retail and office space fronting the park.
– Over $450 million in new investments in the area.
– 300 new condos and apartments are planned, which is a big deal when you're talking about downtown Detroit.
– 50,000 ice skaters each winter, plus broomball (hockey with broom-like sticks).
– Home of the annual Motown Winter Blast, an event that draws over 450,000 people to the area.
Then there's the outdoor cafe, 2000 informal places to sit, year-round concerts featured on two retractable stages, bocce ball courts, and just a place to feel like a sense of community can rise above all else.