The 'outdoor cafe district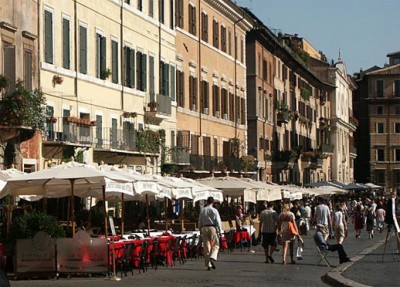 Continuing our look at the outdoor cafe scene this week…
So, the key to establishing an outdoor cafe scene is converging and multiplying outdoor cafe walks, outdoor cafe alleys or outdoor cafe squares, outdoor cafe stage rows, sprinkled with isolated outdoor cafes. Then you'd officially have an outdoor cafe district and well on the way to attracting creatives, innovative businesses and a vibrant culture.
The photo of Piazza Navonna, Rome above is a combined stage row and square, or the be more exact, a stage row and plaza/piazza, which we haven't gotten to yet – they essentially don't exist in the U.S… yet.
Some of the well known outdoor cafe districts include La Rambla, Barcelona's, which is like a giant outdoor cafe walk, with minor traffic lanes between the buildings and central walking area; the stage rows of Paris; the cafe walks all over Melbourne, Australia, Brussels, Belgium and throughout the Netherlands; and the countless outdoor cafe squares every few steps in Venice. San Franciso is building up a stage row presence, and its Belden Place is a well known hybrid of an outdoor cafe walk, alley and stage row.