Times Square goes car free – permanently?
I think we have definitely hit the pedestrian walk tipping point. First Wired Magazine publishes It's Time for Cities to Favor People, Not Cars, then San Francisco's mayor announces the possibility of closing the city's main thoroughfare to cars. Now New York City Mayor Bloomberg announces on February 26, 2009 that Times Square and Herald Square will go completely vehicle-free, along with 36 blocks of Broadway adding a pedestrian promenade and bike lane while leaving a reduced number of car lanes. It's not permanent, but if proven a success by the end of the year, it will be.
Mayor Bloomberg, "People avoid Times Square because the traffic is so terrible and people are getting pushed out into the streets – the sidewalks can't handle it. People don't come to look at cars stuck in traffic. They come to look at the lights, the buildings and the excitement, and this is going to have a lot more of it." The street closings (or openings, rather) will occur on Memorial Day, and the plazas will be completed over the summer.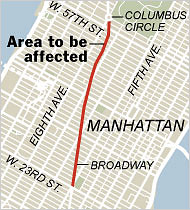 The permanent street closing to vehicles will occur on Broadway Boulevard at 47th Street to 42nd Street in Times Square and from 35th Street to 33rd Street at Herald Square, with crosstown traffic allowed. The rest of Broadway will follow a precedent set by the Broadway Boulevard project.
How did this all happen? Well, you take one visionary mayor, a city filled with more creatives than any in the U.S., and what is arguably the most innovative government agency in the world, the NYC Department of Transportation.
See the previous entries, Manhattan running out of space for pedestrians and How can Times Square make room for its crowded pedestrians?.