Time gets on the 'people over cars' bandwagon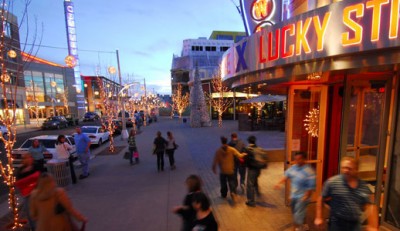 Time Magazine has taken the 'people over cars' cultural mindset shift into prime time media. In their 10 Ideas Changing the World Right Now, they've prominently placed Recycling the Suburbs at #2 on the list.
From the article, which looks at how to retrofit suburbia to become pedestrian-oriented rather than auto-oriented…
"Though creative cities will grow more attractive for empty-nest retirees and young graduates alike, we won't all be moving to New York. Many Americans will still prefer the space of the suburbs – including the parking spaces. But the result will be a U.S. that is more sustainable – environmentally and economically."
"The suburbs need to be remade, and just such a transformation is under way in regions that were known for some of the worst sprawl in the U.S. Communities as diverse as Lakewood, Colo. (pictured above), and Long Beach, Calif., have repurposed boarded-up malls as mixed-use developments with retail stores, offices and apartments. It'll be the older inner suburbs like Tysons Corner, Va., that will have the mass transit, public space and economic gravity to thrive postrecession."
Of course, these suburban retrofits still have that new sterile feel amid the predominance of chain retail, but it's a start.
By the way, here's Time's full 10 Ideas Changing the World Right Now list, with the relevant topics in bold.
1. Jobs Are the New Assets
2. Recycling the Suburbs
3. The New Calvinism
4. Reinstating The Interstate – Not what it sounds like, but instead using all those expensive right-of-way acquisitions for mass transit and energy distribution.
5. Amortality – Living longer is in, and walkable cities help.
6. Africa: Open for Business
7. The Rent-a-Country
8. Biobanks
9. Survival Stores – Experience-oriented stores based on basic needs, whether it's goods (food), services (computer repair) or transformation (yoga)… all at one address.
10. Ecological Intelligence – An accountability system (ie life-cycle assessment, LCA) measuring the true environmental costs of the products that are made.
Richard Florida's How the Crash Will Reshape America started off the recent 'people over cars' media blitz in the Atlantic Monthly, followed by Wired, then by Fast Company, and now Time.
What do you think should be on the list? Comment below (no registration required).