Financed crowdsourcing of green homes in DC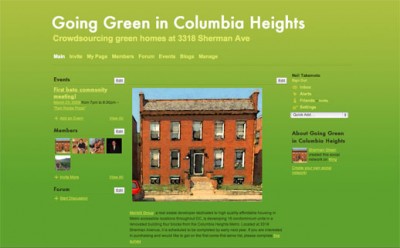 Crowdsourcing is often used as a tool to prove there's a market in order to attract the capital needed to execute the project. However, while participants may not have as much input in a place that already has the capital secured, the fact that the project is indeed going to be implemented one way or another is highly motivating.
Once such development is a redevelopment of an existing building into 16 condos, starting under $200K, in the Columbia Heights neighborhood in the heart of Washington DC. The Menkiti Group, a real estate developer committed to high quality attainably-priced housing near Metro (subway) stations throughout DC, is developing 16 condominium units in a renovated building four blocks from the Columbia Heights Metro. Located at 3318 Sherman Avenue, it is scheduled to be completed by early next year.
However, what aspect of this development is being crowdsourced given that it's going to be developed anyway? How green it's going to be. Green elements that the future tenants of the building will decide if they want to pay for include bamboo flooring, dual flush toilets, low VOC cabinets, pervious landscaping and storm water management, a green roof and recycled countertop materials. Green features for the building already include enhanced insulation/building envelop tightness, Energy Star appliances, bike room/proximity to metro and transit, low VOC paint and low flow shower and sink fixtures.
Diversity is also a key goal for Bo Menkiti, the African-American CEO of the Menkiti Group, who has a special focus on providing homeownership opportunities to individuals who work in jobs that serve the community.
Getting on the first come-first serve list starts with a survey.
The first open-to-the-public meeting of possible future residents (ie the beta community), organized by CoolTown Beta Communities is on Monday, March 23, 2009. In addition to nine interested buyers, the development team, the press, and representatives for the City of DC's Green Building Office of Policy and Sustainability and District Department of the Environment have stated they will be there.
The image above is the http://shermangreen.ning.comhome page of the just launched social network for the to-be-named development. Notice how it has just five members. Check back in a month.