Amsterdam goes even greener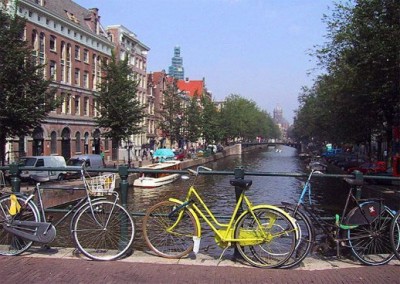 Amsterdam, The Netherlands already has a global reputation for being a biking city (within a biking country), which is fast becoming a poster child for a 21st century infrastructure that isn't reliant on automobiles. Not coincidentally, a walkable built environment is much more conducive to a digital infrastructure replacing an asphalt one, which is allowing Amsterdam to also now lead the world in raising the bar for what being green is.
Some of the green programs that will be completed by 2012, not started by 2012:
– 500 households will pilot a $1 billion energy-saving smart grid system from IBM and Cisco aimed to cut electricity costs. By 2011, almost all of Amsterdam is expected be on a smart grid;
– 728 homes will pilot a financing program to buy green elements from energy-saving light bulbs to ultra-efficient roof insulation.
– Street trash will be collected by electric trucks;
– Electronic displays at bus stops will be solar powered;
Boulder, Colorado has taken a lead in the U.S., partnering with Accenture and Xcel Energy to complete a $100 million smart grid by June 2009, where households have already reduced their energy output by 50%.
The point is, Amsterdam and Boulder are leading the green renaissance because they already have the infrastructure and urban fabric that attracts creatives.
Read more in Amsterdam as Smart City: Going Green, Fast.