Minneapolis a model for recycled warehouses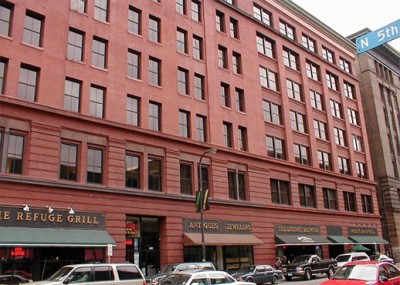 Just as our evolution to the knowledge economy is providing opportunities to recycle suburbia, as Time Magazine puts it, a less intimidating precedent would be how we've recycled manufacturing industrial districts to suit contemporary needs.
The Minneapolis Warehouse District is one of the best examples of recycling warehouses into an entire 50-block retail and entertainment neighborhood, with a core of about 60 historic warehouses (pictured) in a seven-block area. Known as the SoHo of the Midwest for dubious reasons, the creative renaissance already occurred 30 years ago and has already gentrified, but at least has retained dozens upon dozens of local, independent coffeehouses, restaurants, cafes, shops, galleries and theaters as well as hundreds of new downtown housing, albeit not necessarily attainably-priced.
The point is, Minneapolis has long provided a national model for retaining a significant downtown population, and its best days are yet to come. The 508-member Minneapolis Warehouse Entertainment District even has a nascent Facebook Fan Page.
What do you think of the Minneapolis Warehouse District? Comment below (no registration required)…