NYC's significant Plaza Program selects winners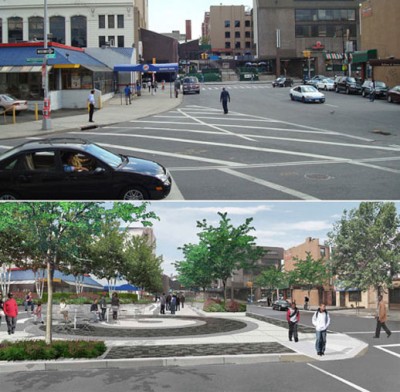 Introduced almost a year ago, the NY Plaza Program (a CoolTown Top 20 post) promised to award eight projects in any of NYC's five boroughs by funding the redesign and redevelopment of the street into a plaza. The winners have finally been announced, and there are nine of them. Check out detailed descriptions of the winners on the this New York City Department of Transportation (NYCDOT) web page.
Brooklyn
1. Fulton Street & Marcy Avenue – Street narrowing to create 8000 s.f. of new pedestrian space (pictured).
2. Myrtle Avenue (between Grand Avenue and Emerson Place) – Reconfiguring two blocks of a service road into 25,000 s.f. of new pedestrian space.
3. Knickerbocker & Myrtle Avenues – Removal of a slip lane to add 2000 s.f. to the existing Knickerbocker plaza.
4. Humboldt Street (between Moore Street and Varet Street) – 7000 s.f. of outdoor seating and additional market space to the historic LaGuardia-era public markets.
Bronx
5. Boston Road & E. 169th Street – Removing a slip lane to expand the existing McKinley Square by 8000 s.f. to enhance a farmers market and create a town center for the surrounding neighborhoods.
Manhattan
6. West side of Park Avenue (between 41st and 42nd Streets) – Addition of 8000 s.f. of outdoor space on the west side of Park Avenue adjacent to the historic Grand Central Terminal and Pershing Restaurant.
7. Hamilton Place (between 136th and 138th Streets) & Broadway – Removing a slip lane to add 14,000 s.f. of pedestrian space, expanding a redesigned Montefiore Park.
8. W. 175th Street (between Broadway and Wadsworth Street) – Transformation of a public market, La Plaza De Las Americas, into a 10,000 s.f. permanent pedestrian plaza, modeled after town squares in Latin America.
9. Forsyth Street (between Canal Street and Division Street) – 10,000 s.f. in new sidewalks and upper plaza on a vacant portion of property adjacent to the Manhattan Bridge.
While these aren't really pedestrian-only transformations of streets along the lines of other more progressive efforts put forth by both the NYC DOT and City of San Francisco, it's certainly a significant step in the right direction in developing the kinds of places that attract and retain the emerging creatives population so necessary for the vibrancy of our economy and culture.
Before and after images of Fulton Street & Marcy Avenue, Brooklyn, New York City, NY