Crowdsourcing a coworking story in Virginia…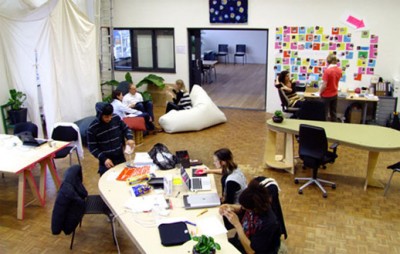 So here's a scene… five fellow entrepreneurs having a spontaneous coworking session at someone's home, and I decide to use the group to crowdsource the blog entry for today – here's the result…
How crowdsourcing created a coworking opportunity in Arlington, Virginia.
Back in November 2008, I gave a presentation of the content on this site to a group of government and business leaders in Arlington (Leadership Arlington), which motivated an initiative to launch a crowdsourcing community of creatives in January 2009, Creative Arlington.
The Arlington County Cultural Affairs Division, the area's de facto arts organization, sponsored a Creative Arlington event to spark interest in transforming a former 55,000 'Newseum' in Rosslyn (the site of the event) into a cultural center, and has since been energized by the creative community to crowdsource the space into a creative center, pending county approval.
The most oft-mentioned topic from the two previous Creative Arlington events and the 150+ members in its social network has been the desire for a coworking space, by far. As a result, a sponsor (I can't mention them yet) is offering a contemporary 5000 s.f. space a block from the subway station in the commercial district of Ballston at a subsidized rate ($16/s.f.) if a group can be organized to manage it. So… any coworking enterpreneurs interested in leading a coworking space in Arlington County with a community of creatives fervently behind it? Check it out here!
ps The five of us decided to check out the space – you can't beat the location.
Photo of The Hub coworking space in Amsterdam, the Netherlands.