San Francisco's new pedestrian plaza opens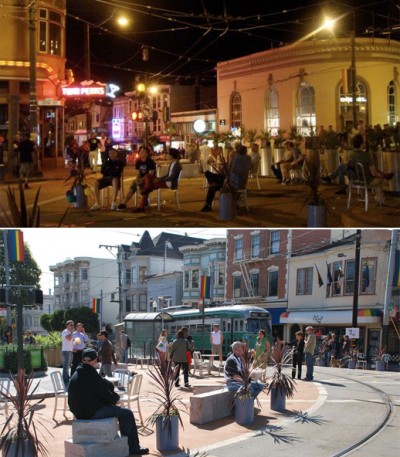 Less than five months after announcing a plan to transform a San Francisco street into a pedestrian-only plaza, voila! The 7800 s.f. at 17th and Castro Streets, officially known as the 17th Street Plaza, opened on May 13, 2009 and as you can see has already been a success. There's even a 17th Street Plaza Facebook group.
It's the first of Mayor Gavin Newsom's Pavement to Parks Initiative to create car-free pedestrian plazas, "There are many challenges to providing residents with open spaces in our dense urban setting, particularly during this tough economic climate. With this initiative, we can make a difference by utilizing simple and low-cost design strategies such as simply painting or treating the asphalt, placing protective barriers along the periphery, and installing moveable tables and chairs. It offers a creative solution to improving the urban landscape."
Total cost? Apparently a mere $25,000, according to the San Francisco Chronicle. Follow the stories leading up to and after its grand opening here.
Photos by AnMarie Rodgers and Jamison.