First Fed funded crowdsourced placemaking!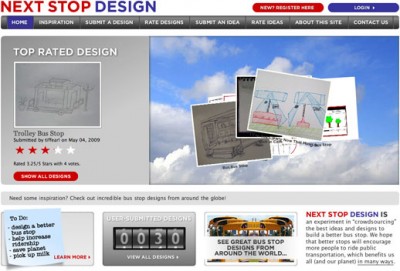 If even the federal government is funding a crowdsourced placemaking project, you know the private sector is getting a serious wake-up call. The resulting program, Crowdsourcing Public Participation in Transit Planning, is experienced predominantly through its website at nextstopdesign.com, which launched in the past week.
The U.S. Federal Transit Administration, under their 2008 grant program for Innovative Small Research Projects to Advance Public Participation Related to Public Transportation Planning, awarded the University of Utah's Department of City & Metropolitan Planning and Department of Communication $115,000 to crowdsource the design of their public bus stops.
So what makes it crowdsourced placemaking? Anyone can submit their ideas (as text) or visions (as images), and anyone can rate other people's submissions just the same. The top rated are featured on the home page, and once the 'contest' period ends, the top selections are reviewed for actual implementation by the Utah Transit Authority.
Read more from the project's founder, Daren Brabham, in this CoolTown Crowdsourced Placemaking online chat transcript. As a result of that global conversation, expect to see a 'submit and rate' site in the Fall for favorite cooltown-oriented places from around the world.