What cities are attracting Gen Y?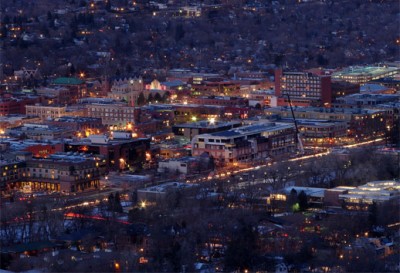 Via creative economist Richard Florida, Kevin Stolarick at the Martin Prosperity Institute and BusinessWeek, here are the top 25 Best Cities for Gen Y. The rankings are based on more than thirty weighted variables in five categories: the share of a population at the young and single life stage, economic strength; education levels and safety; economic growth; and local amenities, measuring all 363 metropolitan areas in the U.S.
1. Boulder, Colorado (90K) – Progressive vibe, outdoor recreation, college town (pictured)
2. San Francisco, CA (758K) – Probably the most Europeanesque city in the U.S.
3. Washington DC (585K) – Internationally culturally rich with a small city feel.
4. Madison, Wisconsin (220K) – Progressive vibe, affordable, college town
5. Boston, MA (601K) – Highly educated with multiple universities, historic neighborhoods
6. Los Angeles, CA (3.8M) – The entertainment mecca and magnet for trendsetters
7. New York City, NY – The creative capital of the U.S., if you can afford it.
8. Santa Barbara, CA (89K) – A surprisingly high amount of international diversity.
9. Worcester, MA (166K) – Highly educated and gay friendly for a smaller city.
10. Bridgeport, Connecticut (131K) – Plenty of nightlife and an international crowd.
10. Trenton, New Jersey (80K) – Also high educated and gay friendly.
12. Ann Arbor, Michigan (113K) – One of the top college towns in the country.
13. Austin, Texas (725K) – The live music capital with a rep for a free spirit, a giant college town.
14. Santa Rosa, CA (148K) – A quaint small town north of Silicon Valley, home to many creative professionals.
15. New Haven, Connecticut (124K) – College town and favorite for singles.
16. San Jose, CA (899K) – The more affordable region of Silicon Valley.
17. San Diego, CA (1.3M) – Lots of creative workers, arts and culture and great weather.
18. Raleigh, North Carolina (342K) – Small town Silicon Valley.
19. Honolulu, Hawaii (360K) – Lots of jobs in creative professions – food, entertainment, arts and culture.
20. Albany, NY (90K) – Lots of creative workers, growing companies
21. Seattle, WA (566K) – A big city version of Boulder, with an emphasis on tech and music.
22. Portland, Maine (63K) – Safe, many creative workers.
23. Colorado Springs, CO (390K) – Affordable, lots of creative workers.
24. Providence, Rhode Island (170K) – A favorite for young people, home to RISD, diversity of places to eat.
25. Minneapolis, Minnesota (363K) – Affordable, rich in arts and culture, one of the most underrated cities for creatives.
As pointed out in the same BusinessWeek issue, when looking at cities from a purely jobs point of view, the most popular U.S. cities with American students are:
1. New York, NY
2. Washington, D.C.
3. Los Angeles, CA
4. Boston, MA
5. San Francisco, CA
6. Chicago, IL
7. Denver, CO
8. Seattle, WA
9. Atlanta, GA
10. San Diego, CA
Then when asking American students where they're looking to start their international careers…
1. United Kingdom
2. China
3. United States
4. France
5. Australia
6. Japan
7. Germany
8. Hong Kong
9. Spain
10. Italy
The bottom line is, Gen Y will tend to seek jobs where they're most prevalent (ie big cities), but given the opportunity to find a job in their city of preference, that all changes.
Photo of downtown Boulder, Colorado by Molas.