Paris' ultimate third place for creatives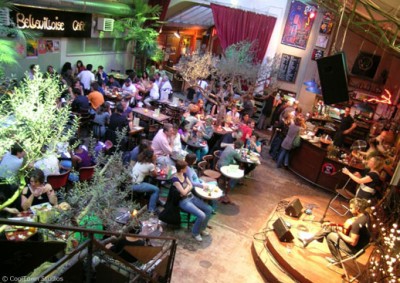 It took until the nearly the last day I was in Paris, but a local resident who understand my values absolutely insisted I check out La Bellevilloise, and so I did that night. It turned out to be what I would consider the place I'd hang out at the most in Paris, a true third place for creatives.
Described by its owners as a 'an independent, artistic and festive place', La Bellevillois got its name from a Parisian cooperative of the same name founded in 1877, which offered political education and culture to modest people and a place of resistance from 1910 to 1949. In 2005, entrepreneurs Renaud Barillet, Fabrice Martinez and Philippe Jupin, involved in show business, the production industry and media, renovated the building to "give life again to the spirit of La Bellevilloise by creating a huge independent place with artistic activities and happenings unique in Paris, for the public, companies and medias."
On a Saturday night, La Halle Aux Oliviers, Le Club and Cafe-Terrasse (see diagram below) were all open and completely full, with Le Club featuring a live band, and La Halle live individual musicians (see photo above). As you can see, La Halle is unlike any dining experience you've been to lately. The Terrasse, an outdoor terrace, was ideal for more quiet conversations. Most surprisingly is that the food and drinks were priced noticeably lower than the Parisian average – they truly understood the creative lifestyle. On the second floor, Le Forum provides a more formal, elegant performance space, and the third floor provides two high-definition screening areas to allow artists to advance their video work.
The events are considered among the most cutting edge in Paris, from exhibitions, concerts, shows and DJ sets to festivals, markets, soirees and screenings.