Crowdsourcing the design of live-work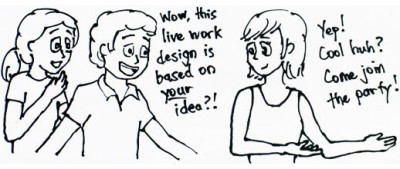 Washington DC developer Jair Lynch has a unique live-work space in their new Solea mixed-use project, but hasn't quite figured out how to market the 1600 s.f. live-work spaces on its ground floor. With 800 s.f. of retail space on the ground floor, and an open stairway down to 800 s.f. of living space with kitchen and washer/dryer below, it's not for the everyday buyer. So, they decided to crowdsourcing what it could be.
"Crowdsourcing means we are opening it up to the creative people in DC," says Julia Klaiber of Jair Lynch. So they hired MobFuse, a firm specializing in crowdsourcing, to design and manage a contest – Define Live Work – that allows anyone to submit ideas for what they think the live-work space could be. The ideas could presented as a video, an illustration, or just text. The public is then invited to vote and comment on whatever ideas turn them on. The winning 'people's choice' idea receives $500, and among the top vote getters, the developer will also choose one to actually invest in showcasing. That winner also receives $500.
The public also gets to enjoy four festive events in the space to help build an enthusiastic community around the effort, including a final one that shows off the unit designed and outfitted based on the winner's idea (as expressed in the illustration above). For many, seeing their ideas become reality for all to experience is more motivating than a cash prize.
Check out the buzz, both local and national, below:
Urban Turf: How to Best Use Live-Work Space? A Local Contest Seeks to Find Out
Washington Business Journal: [Developer] Asks The Public For Solea Live-Work Unit Designs
Apartment Therapy: DC Contest: Creative Ideas for an Urban Live-Work Loft.