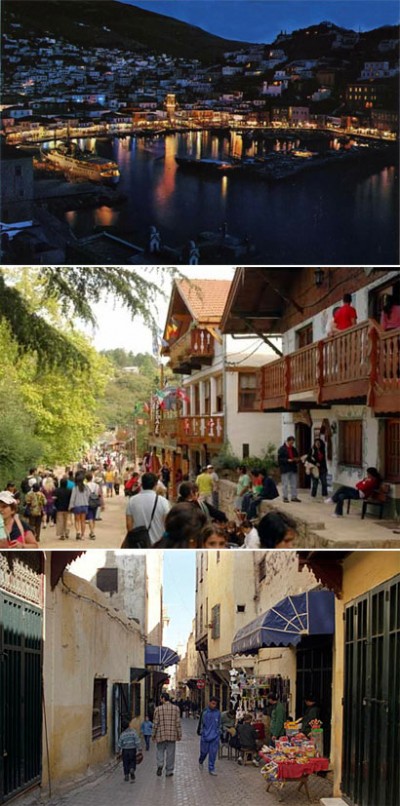 Yes, they do exist. Here are 7 favorite car-free cities as selected by the Mother Nature Network, which reminds us that a mere 100 years ago just about every city in the world was car-free. Large to small:
The Medina of Fes-el-Bali, Morocco (bottom image) – pop. 156,000. One of the largest contiguous car-free urban areas in the world, if not the largest, and the most pedestrian-scaled as well, where cars simply wouldn't fit on most of the streets, sometimes not even bikes!
Venice, Italy – pop. 70,000. Venice is host to one of the best collections piazzas in the world – there's one practically every few blocks, and in warm weather they're full of people.
Hydra, Saronic Islands, Greece (top image) – pop. 3000. A popular destination for nearby Athenians, Hydra features horses and donkeys as its main inland transportation, though most everyone walks.
Lamu Island, Kenya, Africa – pop. 2000. The 'oldest and best-preserved Swahili settlement in East Africa', a tourist destination, and reliant on donkeys for transportation.
Mackinac Island, Michigan – pop. 600. Home to two of the largest freshwater sailing events in the world, with motor vehicles banned since 1898.
Sark Island, United Kingdom – pop. 560. Award-winning hotels and restaurants, camping on this island in the English Channel. Only horse-drawn vehicles and bicycles allowed.
La Cumbrecita, Argentina (middle image) – pop. 345. Reminiscent of Swiss mountain villages, the self-described 'pedestrian town' focuses on eco-tourism.
Check out a complete list of car free places on Wikipedia. It makes you wonder why city and business leaders make such a big deal about developing just one pedestrian-oriented street. At least New York City is taking some initiative by closing 36 blocks of street to cars, including Times Square, reversing a trend starting 100 years ago.