World's greenest building?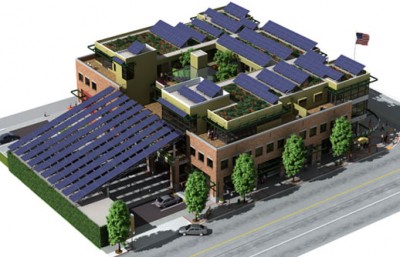 Unlike many so-called 'green' buildings built in greenfields that require driving to get to, LEED standards rating of 66 out of 69 points, the highest rating ever achieved by a commercial building, it's justifiable in aspiring to be called the world's greenest building.
As a sign of the times that driving is considered less and less a right than a privilege, the newest LEED standards (Version 3) have increased the importance of a building's urban location from 1 point to 5. Other than its location, Independence Station's myriad green features include:
– Net positive energy flow, with the third largest solar PV installation in Oregon (130 kw)
– Habitat restoration along adjacent creek, blackwater waste treatment bioreactor, natural wastewater treatment ponds
– Organic-production greenhouses and tilapia farming to produce food for the community
– Biodiesel-fueled cogeneration and thermal storage system with backup provided by a retired tug-boat engine named Mabel that runs on waste vegetable oil from local restaurants.
– Rainwater harvesting
– Greenroof and landscaped third floor courtyard
– Solar water heating; radiant floor heating and cooling
– Extensive daylighting and LEDs throughout the development
– Water-source geothermal heating and cooling
– Utility costs of 92% less than a conventional building of the same size and type
Public amenities include an open space with cafe seating, water features, paths and sustainability educational opportunities via classes, workshops and tours.
Scheduled for first phase completion in 2010, the $15 million, 57,000 s.f. development will have fifteen 1- to 2-bedroom units ranging from 600 to 1600 s.f. with prices from the $300s to the $600s; 11,900 s.f. of office space; 13,700 s.f. of retail; 4200 s.f. of basement level retail; and an alternative energy research center for Oregon State University's Chemical Engineering Department.
Victoria's Dockside Green is the current title holder for world's greenest building.