Coolest college towns' and their 'killer apps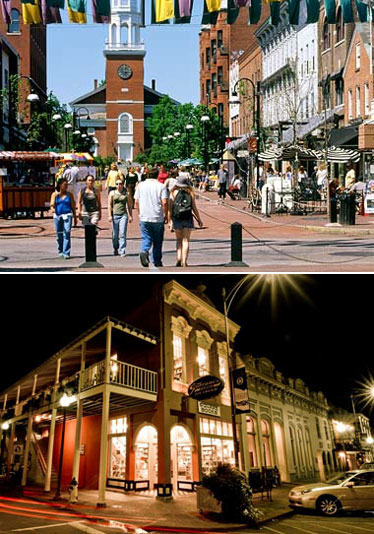 While Travel + Leisure busts out their America's Coolest College Towns list, here's a look at their possible 'killer apps' that provide the core attraction. Also, a look at the 'killer hardware' that enables these killer apps to flourish.
Oxford, MS (University of Mississippi) – While the killer app in each of these towns can easily be the university, it's hard to find a better case than a city that named itself after the England's university city of Oxford just to attract the state university. Killer hardware: The Square, the city's town square and host to the region's favorite local restaurants and shops.
Olympia, WA (Evergreen State College) – For a liberal arts university located on the waterfront in a forest in an arts town, the killer app is arguably creative environmentalism. Killer hardware: As with any waterfront town, the waterfront.
Charlottesville, VA (University of Virginia) – Killer app: The music scene. Killer hardware: The multi-block pedestrian-only mall replete with local businesses and outdoor dining.
Austin, TX (University of Texas) – Killer app: The 'Keep Austin weird' culture, or its rep as the 'Live Music Capital of the World'. Killer hardware? They're working on pedestrianizing the downtown – stay tuned…
Burlington, VT (University of Vermont) – Killer app: One of the most progressive cultures anywhere in the world. Killer hardware: Church Street, the pedestrian-only mall, very similar to Charlottesville's.
Boulder, CO (University of Colorado) – Killer app: Outdoor recreation. Killer hardware: Pearl Street, a pedestrian-only mall, though not as conducive to local restaurants and outdoor dining as Charlottesville's and Burlington's.
Berkeley, CA (University of California) – Killer app: Reverence to irreverence. Berkeley is a center for change agents. Killer hardware: All that irreverence hasn't quite added up to a defining public destination, yet.
Ann Arbor, MI (University of Michigan) – Killer app: High tech economy. Killer hardware: Tough call – choose among State Street, University Street or Kerrytown. The city is suffering from gentrification and maybe not enough art in the economy to complement the tech.
Madison, WI (University of Wisconsin) – Killer app: 'Open, socially progressive, life is good culture'. Killer hardware: State Street pedestrian mall (with bus traffic), one of the few directly connected to a university. Also, the university's Terrace overlooking the lake.
Chapel Hill, NC (University of North Carolina) – Killer app: Regarded as 'America's Foodiest Small Town'. Killer hardware: Franklin Street, home to all the local cuisine and music you can handle.
For some reason, Travel + Leisure left Athens off their list.
Athens, GA (University of Georgia) – Killer app: The music scene, hands down. Killer hardware: The entire downtown, directly adjacent to the university.
Thanks to Kennedy Smith for the reference.
Image: Charlottesville, VA; Oxford, MS