Starbucks goes local, sort of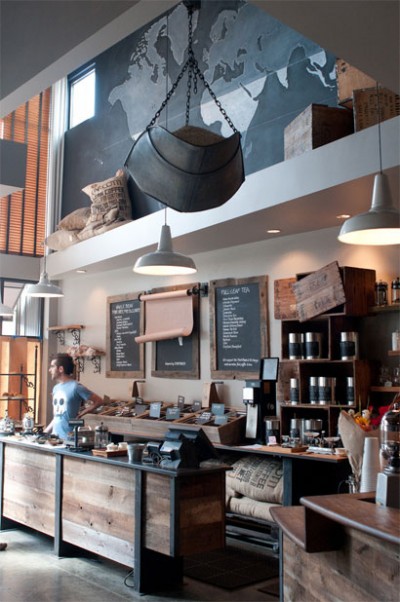 I never thought I'd have an entry with Starbucks in the title, but here it is. Starbucks is letting new stores be branded locally with their own name, products and culture, the first of which is 15th Avenue Coffee & Tea in Seattle (pictured).
First of all, this is not about taking business away from the true local independents. Their customers are loyal and not fooled by the corporate stealthiness. This is more about international corporations allowing local culture to be part of their global brand, in a much more literal, hyperlocal way than simply offering McSushi in Japan – they're trying to shed their corporate image in exchange for a local one. It's the corporate equivalent of the VIBE (variegated independent business entrepreneur) – see the previous entry Transcending the national retail chains with vibes and How local indies can compete with national chains.
Every neighborhood is inevitably going to have a Starbucks – would you rather have one that looks like all those in the rest of the world, or one that's run by a local that blogs about how they're bringing the neighborhood's culture into the venue on a daily basis? Here are some of the coffeehouse's features that highlight the company's attempt to embrace the local culture…
– It's own 15th Avenue Coffee & Tea">website, and a personal blog.
– Restaurant style food.- Serving beer, a locally founded brand, and wine.
– Pastries and cheeses from neighboring local independent businesses.
– No Frappuccinos or any Starbucks related drinks or items.
– No automated espresso machines.
– Limited and seasonal coffee offerings.
– Customers are instructed to use mugs rather than disposables.
– Daily 10 am cuppings (coffee tastings).
– Live poetry readings, music, and actor line readings.
– Heavy use of recycled materials in the interiors, such as a communal table sourced from a wooden ship.
Two carryovers from the Starbucks brand include Tazo tea (I'm sure this isn't a requirement though), and a commitment to friendly service (which I'm sure is something Starbucks vets in approving people to run these businesses.)
Read more in Not Starbucks: Inside 15th Avenue Coffee & Tea and the Seattle Times.
While this is Starbucks' attempt to achieve a certain level of authenticity that's so intrinsic to creatives, a neighboring business owner stated it well, "Authenticity can't be bought or copied. They should use this as a lesson to find their own identity within themselves."
Photo by joshc.