The local indie retailers' 'unchain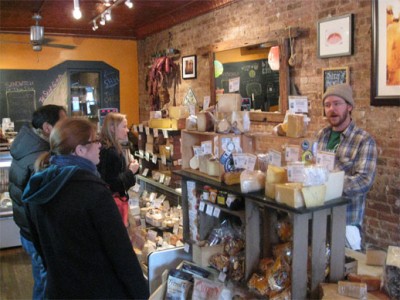 It's well known that local retail far outweighs the national chains in benefitting the surrounding neighborhood (see previous entry), but how can local indie retailers compete, especially with national chains now going local?
For one, they can crowdsource their customer base with their unique community brand. Second, they can become a VIBE (variegated independent business entrepreneur) and open a diversified portfolio of different, unique businesses in the same neighborhood. Brooklyn is a haven for VIBEs, and one has even taken it a step further.
From the NY Times article, Brooklyn's Tide of Chains, Decidedly Local, "Opening related but slightly different outposts in close proximity has allowed owners to diversify and tap into these customers in a variety of different ways without necessarily cannibalizing their existing trade. In addition, diversification can help business owners survive in tough times, as gains at one shop offset declines at another."
Some examples of VIBEs presented in the Times piece: 'The Franks' own restaurants Frankies Spuntino and Prime Meats, the Cafe Pedlar coffeehouse, and soon opening Delightful Coffee Shop. Patrick Watson and Michele Pravda own a cheese-and-charcuterie store Stinky Bklyn (pictured), the JakeWalk wine bar and the Smith & Vine wine shop. Loren Sosna owns a furnishings shop and a boutique. Husband and wife Leslie and Jean-Jacques Bernat own a bistro, a B&B and are opening a new restaurant.
Then there's Loretta Gendville, who established an exclusive neighborhood brand for Brooklyn called 'Area', starting with a day spa, Area Emporium and Spa and branching out to a yoga studio, Area Yoga Brookyln, and clothing stores, Area Kids, each with their own websites.
Ah, but the spirit and value of local entrepreneurship is well expressed in the Ben and Michael Wiley brothers' encore after their Bar Great Harry brewpub – the Mission Dolores beer garden in a former automotive shop, and in this quote from Ben, "I was never like, 'Dude, let's have five or six bars — live large,' " he said, laughing. "Four would be enough."
Photo of Stinky Bklyn by Meg Zimbeck.