Mini-condos on the rise in walkable urban areas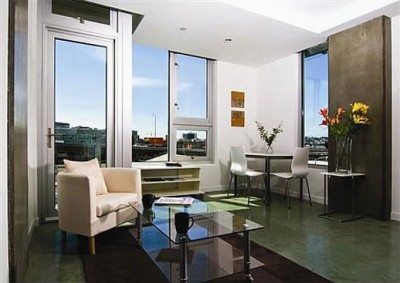 For emerging generations, 'quality of life' does not mean quantity of life, as "more evidence that 'not so big homes' are in" provides evidence for. People are increasingly favoring giving up square footage in exchange for having the freedom to live in whatever neighborhood they choose, like being closer to work, closer to friends, closer to, well, having a life. You can buy space, but you can't buy time.
Even the Urban Land Institute, the leading organization for real estate developers is encouraging its members to focus on new models of attainably-priced housing, "A growing number of one­ and two­ person urban households, particularly "DINKs" – dual-income, no-kid couples who value the quality of life that comes with living downtown – will dramatically expand the potential consumer base for mini-condos." Thinking Big by Building Small (requires membership) in ULI's September issue looks at several new private and public sector developments that are providing for this in-demand market:
Private sector:
Cubix Yerba Buena, San Francisco – 98 condos at 250 to 350 s.f. priced at one third of the area's median home price.
Moda Apartments/Montreux Condominiums, Seattle – 136 units, measuring from 306 to 500 s.f., originally selling for $90,000 and now going for $185,000.
Shoebox Lofts, Portland, OR – 17 units under development starting at $199,000. "I'm just a guy who grew up in Portland, used to live in the neighborhood, and wanted to build an antidote to all the 'yuppie-pads' being built in the area," developer Joe Gustafson.
Historic United Building, Los Angeles – Proposal for 155 mini-condos from 304 s.f.
Public sector:
City of Portland, OR – Allowed 16-story 'Civic' in the Pearl District by developer Gerding Edlen to build 15 of 261 units without parking, reducing the prices of those units to below $200,000. It's a start.
City of Miami, FL – Provided parking access for new housing development to city-owned parking garages, eliminating the need to build them on site and reducing condo prices to $159,000.
City of Los Angeles – Passed new zoning rules to allow production of smaller units. Details anyone?
What's really needed to reduce prices for emerging generations of urban home buyers? Right now, it's illegal to buy a new condo without a parking space, even though it significantly hikes up the price. Check out the personal financial benefits of going car-free and you'll see why this is already starting to change in progressive cities.
Image: 250 s.f. condo at Cubix Yerba Buena, San Francisco.