The economy-building building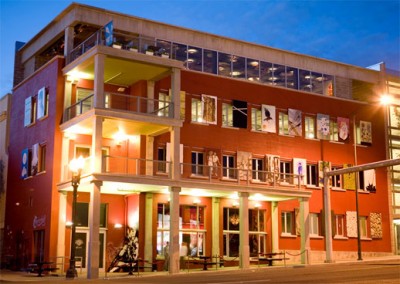 The motivating factor behind writing entries for this blog is that I get to work directly with progressive creatives and developers to crowdsource these concepts into built reality.
So, considering the state of the economy, what are creatives' solution in how the development of a building can become a symbol for economic growth? The following framework of a building will soon be crowdsourced in Washington DC as an answer:
– Local, independent businesses on the ground floor. Not only do local businesses have four times the economic impact over nationals, but the entrepreneurs who run them are a key source for job growth. The ideal business in this building would be a third place restaurant/cafe/coffeehouse/lounge.
– Coworking on the second floor. Once again, support the entrepreneurs, the future Steve Jobs, Bill Gates, Debbi Fields… providing an attainably-priced (can't emphasize that enough) open plan shared workplace for them to work among other entrepreneurs, inspiring, motivating and supporting one another. This is the backbone of any strong economy. The third place below serves as a great casual meeting spot both during and after work, sourcing the next great napkin ideas for business (ie the ideas for Pixar's A Bug's Life, Monsters Inc., Finding Nemo, and Wall-E were generated at such a venue).
– Mini-condos on the upper floors. These are pretty much the same sized units in most of the world, except in the U.S. we've become accustomed to living in spaces larger than we really need, or can afford, as the housing crisis showed. The American Dream is no longer the McMansion. 380 s.f. one-bedrooms, even 250 s.f. efficiencies are selling out rapidly in San Francisco and Seattle, and are a sign of things to come.
– Limited parking. Creatives are increasingly preferring a car-free lifestyle. Add in the real possibility that GM could be bought out by China, and one realizes that the auto industry is no longer be the heart of the U.S. economy, and its culture will follow. Oil was never central to our local economy, but has been devastatingly costly to maintain. The proposed building will look to eliminate as many parking spaces as possible, where current laws require one to two spaces per unit.
– Green. This has become a no brainer for creatives. The building will be as green as its future buyers can afford, continuing to support the growing green and renewable energy economy.
– Increased disposable income. Much smaller units can realistically save a few hundred thousand dollars in many cities, and that's no exaggeration. The second highest cost is automobile ownership. Imagine if that money can be invested in fulfilling the true American Dream of starting your own business instead. That is more of an economy multiplier than the home building industry, and more sustainable as well.
Photo of the Burnside Rocket at night, featured previously.