The 'outdoor cafe walk' of Brussels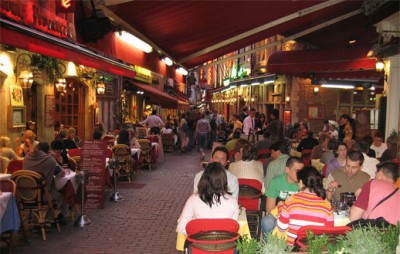 One of those 'I wish we had one in my neighborhood' urban destinations of creatives is the outdoor cafe walk. The Rue des Bouchers (butcher's street, historically) – Beenhouwersstraat in Brussels, Belgium is one of the most picturesque and popular in Europe.
For several blocks, you'll find restaurant after restaurant featuring outdoor seating. What makes this area so inviting?
– The streets are narrow and winding, so you feel like you're in an outdoor room rather than a long corridor.
– These are local, independent businesses. The owners/managers are often 'greeting' you outside, beckoning you to come in. Maybe too inviting, sometimes.
– The architecture of the fronting buildings is quaint, human-scaled and colorful.
– Human-scaled elements such as awnings, tables, displays, signs and plants within a pedestrian-only street remind you that humans are more welcome than say, automobiles.
– The buzz of engaged conversation – you know this is a happening place.
Check out a full slate of photos of this famous streethere, and find more vignettes of the outdoor dining scene here.