Geneva proposes 200 streets as pedestrian only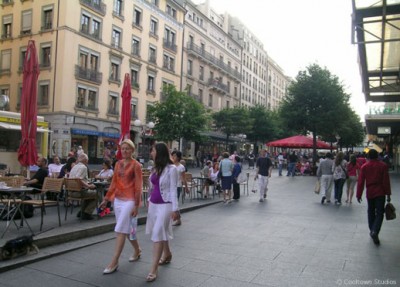 As creatives are increasingly preferring a world beyond cars in natural cultural districts that function more like Wikipedia than Encyclopedia Britannica, bureaucracies both corporate and government are largely stuck in management models of the industrial age that will slow the transition on their end.
Enter the government of Geneva, Switzerland and a tri-partisan 2-1 City Council vote to close 200 streets to cars. Or as Geneva's council member Fabienne Fischer states, "It's not really to close 200 roads or streets in the center of Geneva, but to open 200 streets to improved life in the neighborhood."
We're not talking about the closing of a street or two here and there, this is 200 street blocks that pretty much scale up to an entire downtown. If the proposal is officially enacted (it hasn't yet, as larger businesses may be opposing it), you can place the City of Geneva on par with the economic progressiveness of Google, Amazon and eBay. In fact, the city government is already there, it's a question of whether the private sector can match it.
Fabienne adds, "200 places for pedestrian life or relationships corresponds to 200 schools, kindergartens, or even every type of people at home. The idea is to concentrate these pedestrian zones near these places in order to protect the more fragile people, older people younger people. The small shops also need to have a real social life in order to have people coming."
You can listen to a brief interview with her here.
Also, check out the article by April Streeter of Gothenburg, Sweden on 6 Cities That Could Easily Be Car "Lite" or Car Free .