Denver's Living City Block green model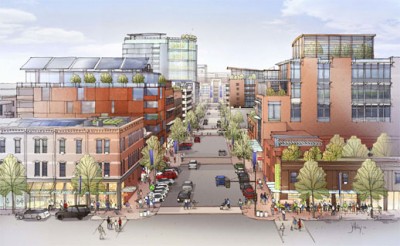 If a cell is defined as the smallest structural and functional unit of an organism, if a building were an organism, its rooms would probably be its cells ('cellula' is Latin for a small room). For a city though, it may be more helpful to associate cells with its blocks, fitting perhaps since a cell is often described as the building blocks of life. From the air, a city's blocks resemble cell structure more than its buildings.
Anyway, accepting this analogy to make a point, this is what makes the Living City Block in Denver, Colorado such an important project, defining the ideal 'cell structure' for a healthy city in the 21st century. It's mission? "To create a replicable, scalable and economically viable framework for the resource efficient regeneration of existing cities."
Scheduled to launch in Summer 2010, two adjacent city blocks (one street block) in LoDo (Lower Downtown) Denver will become a live demonstration and model for environmentally-conscious business and economic development, and livability. How so?
– Focusing on retrofitting and renovating existing buildings.
– Having buy-in from 80% of the building owners to uphold the mission.
– Benefitting from a diversity of active non-profit, educational, business and government partners.
– Providing an opportunity to pioneer features such as buildings producing more energy than they use, "last mile' mobility solutions, energy capturing sidewalks, green leases, charging stations for plug-in vehicles, large-scale solar installation, urban agriculture/living roofs, vertical gardens, onsite renewables, co-generation, home metering, IT driven consumer behavioral change… all in one place, all on one block.r
– Attracting workers and entrepreneurs to such a progressive destination, spurring job creation.
– Linking it with the inauguration of the Biennial of the Americas, a month long "cultural celebration of innovation, imagination and the artistic achievement of the Western Hemisphere", starting July 2010.
Thanks to Suzanne Hunt of HuntGreen for the reference.