Creative cluster urban village in Wales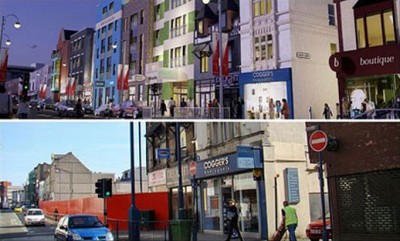 Looks like the creative industries will have a vibrant home in Swansea (pop. 220,000), Wales, in the UK,
The Welsh government recently approved the plan for a $38 million urban village on High Street, bounded by The Strand and Kings Lane streets, with shops, offices, restaurants and attainably-priced apartments organized around courtyards. The area is reportedly largely derelict, boarded up or demolished, though it strategically connects the train station to the city center.
The developer, Coastal Housing Group (CHG), is unique in that it was somewhat crowdsourced. Two housing associations joined forces in April 2008 to become Coastal Housing Group Limited, and is now run by a voluntary board that includes tenant members. It's probably not a coincidence that this group was able to assemble a number of properties for this development, a daunting if not often impossible task for any developer.
Their vision for this development? "To build a creative cluster designed for people involved in a wide range of creative industries such as advertising and marketing, architecture, computer and video games, crafts and the media," according to its director, Geoff Pettifor. He stated that nearby Bristol, Brighton and Birmingham were already investing in creative clusters, and commercial tenants were already waiting to sign up at this one.
Check out CHG's overall goals, refreshingly triple bottom line:
Urban regeneration: Providing homes with easier access to work, shops and fun, reducing carbon footprints.
Affordable homes: Low Cost Home Ownership helps people onto the home owning ladder in these uncertain times.
Local economy benefits: Homes above quality commercial premises, working in partnership with local councils, regional bodies, businesses and community based organisations all add value to our developments.
The development is expected to take five years. The 170 apartments will have underground parking, and one of the first commercial buildings will feature a community arts facility in a refurbished 10th century warehouse, housing an ecological fine art printmaking facility; a gallery and cafe; a large drawing and lecture space; and artist and residency studios.
I know what many of you are thinking, would be nice to have one in my city…
Image: High Street today (below) and proposed (above).