Streetcars coming to 22 cities in next 2 years?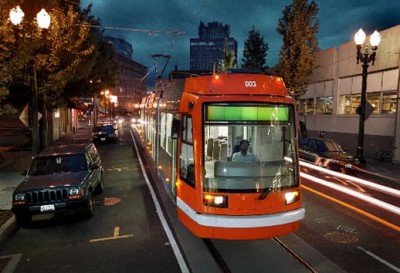 One indication that people are becoming increasingly more interested in getting around within a downtown rather than in and out of it, is the continued rise of the streetcar.
Within the past year, federal funding for streetcars has shifted from buses to streetcars, and the first streetcar was built in the U.S. since 1951.
Cities looking to add new streetcar systems in the next two years:
– Washington, DC: 37-mile network proposed. 2-mile $75M locally funded Union Station to H Street district under construction, $30M Anacostia line to follow. Follow at Streetcars for DC.
– Seatlle, Washington: 2.2-mile line connecting Capitol Hill, First Hill and International District.
– Portland, Oregon: US DOT TIGER grant recipient February 2010.
– Los Angeles, California
– Atlanta, Georgia
– Charlotte, North Carolina
– Cincinnati, Ohio
– Columbus, Ohio
– Baltimore, Maryland
– Providence, Rhode Island
– Dallas, Texas: US DOT TIGER grant recipient February 2010.
– Fort Worth, Texas
– San Antonio, Texas
– Detroit, Michigan: US DOT TIGER grant recipient February 2010.
– New Orleans, Louisiana: US DOT TIGER grant recipient February 2010.
– Salt Lake City, Utah
– Arlington, Virginia
– Sacramento, California
– Fort Lauderdale, Florida
– Little Rock, Arkansas
– Boise, Idaho
– Grand Rapids, Michigan
– Lake Oswego, Oregon
– Kenosha, Wisconsin
– Tucson, Arizona: 3.9-mile between downtown Tucson and University of Arizona. US DOT TIGER grant recipient February 2010.
Why the renewed interest in streetcars?
– Portland, OR: $3.5 billion of private investment along the Portland Streetcar line in 10 years. 53% of downtown development since 1997 has been within a block of the streetcar line. 30% higher ridership than a bus.
– Seattle: Attracted $2.5 billion in development along its streetcar line, with Amazon.com locating its headquarters there.
– Cheaper to build than light rail, shorter cars fit better with automobiles.
– Makes movement within a city more convenient
– Helps build up relatively dense, walkable, mixed use corridors
– Reduces dependence on automobiles.
– Vehicles on rails do not swerve like buses; the ride is steadier, more comfortable.
Check out Portland Streetcar Inc.'s 3-minute video story on building the first streetcar in the U.S. since 1951.