Start-up coworking with a social mission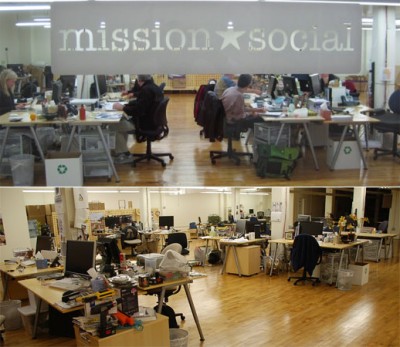 First there was coworking without a space, aka coffeehouses with wi-fi. Then there were coworking spaces. Then came coworking spaces with general themes, like Green Spaces in Brookyln, NY. Next up in that evolution? Coworking with a specific social purpose.
One of the best grassroots examples is mission*social (pictured above) in San Francisco's SoMa district, a large loft renting 'social enterprise space' at $2/s.f. and 'cowork space' at $300/mo. What's unique is that a tech company, Inveneo, that provides broadband in developing communities, decided to secure an entire floor in their building and open it up as coworking space with a shared purpose to mainly technically minded people focused on improving conditions in developing worlds. Read more about thet tenants here.
As far as internationally networked models, The Hub is it, with 18 branches worldwide and over 50 more in planning. Since it's first location in London in 1995 (pictured below), The Hub has focused on social and environmental change organizations. It's international network model (each Hub is independently financed and managed) of 4500 members provides a strong community upon which to network, share resources and open new locations. The Hub Berkeley is the first one in the U.S., opened September 2009, with five more coming to the surrounding Bay Area alone in the next five years.
What makes The Hub's model so appealing is that anyone can participate in its development, and each one is based on the local community's values, other than its name. Each one is still called 'The Hub' instead of something like 'networked by The Hub' with its own unique name reflecting its purpose/history/community, so maybe in its crowdsourced future The Hub will be more of an open source operating system like Linux rather than a ubiquitous international brand that inevitably starts to become more concerned with its international image than its local independent ones.