Cairo to go pedestrian-only in downtown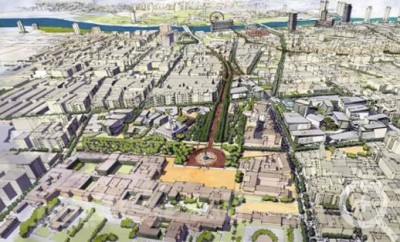 One of the most dangerous cities for pedestrians will soon become one of the safest.
Egyptian Prime Minister Ahmed Nazif commissioned the country's housing ministry in the fall of 2009 to choose an international firm via competition that to work with a local one in planning the transformation of a noisy, car-congested downtown (where residents refer to crossing streets as a sport, or for nostalgists, a video game) into a pedestrian-only district. See rendering of their proposal above. The plan will take 10 to 15 years to fully implement.
Plans are ambitiously forward thinking, including:
– building multi-story underground garages outside of the center city from where people ride into downtown on streetcars;
– development of open-air restaurant areas;
– redeveloping old government buildings into museums, hotels, and art galleries.
These pedestrian-only developments are indicating a rather telling sign of a shift in economics. For the last few decades, and still today, the concerns were/are a resulting lack of business and street life in areas where streets were closed to cars. However, the main issue with these pedestrian-only zones is increasingly becoming a fear of them being too popular to the point locals will have to compete for access with visitors. The simplest solution is to plan more, which is what's happening in New York City and San Francisco.
Does this make you more likely to visit Cairo? How would you feel about the plan as a local?
Rate and compare this project here among other places 'that will soon exist' at Cooltown Places, or submit your own.