Cape Town's spectacular World Cup fan walk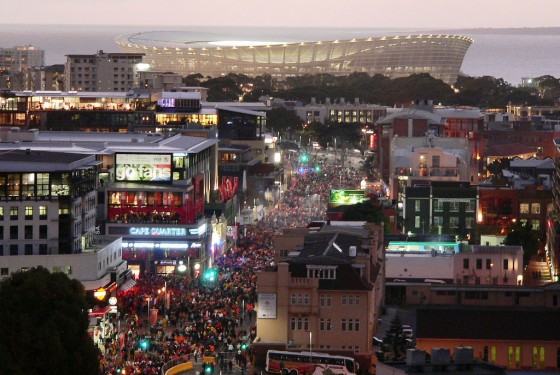 So, you're South Africa and hosting the biggest event in the world, throwing the biggest party in the world via its Fan Fest… what kind of destination do you provide to embrace it all? That's the Fan Walk, a 1.6 mile/2.6 km pedestrian promenade linking downtown Cape Town to its Green Point Stadium (pictured). In fact, it's so successful, city leaders are looking to make it permanent.
You can't ask for a more entertaining walk, or rather, experience. What's more, it'll be a cultural showcase of the best Cape Town and South Africa have to offer in terms of local food (braai, potije, boerewors, gourjons…) to local entertainment (from live bands to drum circles).
Now, in the spirit of crowdsourcing, with the tremendous success of the Fan Walk demonstrated by the enthusiastic crowds, should there by any surprise that the local government is now looking at making it more of a permanent feature? From a South African news site:
"If the roads are closed from the station to the stadium circle every Sunday, it would be a great tourism venue and also a new Cape Town activity. It will add value, bring life to the city on weekends and create new opportunities, mayoral committee member for social development Grant Pascoe.
"[The fan walk would most probably be a permanent feature in the future.] We need to pedestrianize it (during big events). Ratepayers' associations and businesses are saying it, and we've discussed it extensively in council – how we manage major events (at Cape Town Stadium). We will have to have a management plan. My guess is that this (fan walk) is going to stick. We don't want our public open spaces and environment to be turned into parking. It's an exciting thing for the future," local ward councillor JP Smith.
You can see the planning of it in the video below, which shows the design of the Fan Walk and the Fan Park, a grand plaza along the Walk where people will be watching the games (all 64 of them) on a giant screen, not to mention a number of memorable concerts.
Thanks to Denita Acker, from Cape Town, for the reference!