Next up for Better Block in TX: A plaza
It just keeps getting better in Oak Cliff, Texas for its Better Block project. First their two-day demonstration of a pedestrian-oriented destination on 7th Street spurred city council action to work on making it permanent, now the team is ready to tackle something bigger… a three-month demonstration of a pedestrian-only plaza.
Less than three months after the 7th Street demonstration, Dallas' city council, led by council member Delia Jasso, told Better Block founder Jason Roberts that he and nonprofit Go Oak Cliff will have three months to prove the plaza is successful enough to make it permanent. The program is directly modeled after New York City and San Francisco's plaza programs.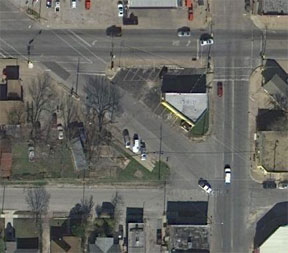 Here's a photo of the existing intersection. It's a challenging site because it's currently surrounded by parking lots and roads, unlike the buildings fronting 7th Street. What will the team think of? What's the budget? Does the site eventually allow for new buildings? The details will come when they start in September (after the dog days of August), though Jason did say they'll have mobile food vendors bringing in revenue.
Keep track of both Better Block projects on 7th Street and the plaza at the Crowdsource Placemaking Lab. Even better, start your own plaza demonstration-to-transformation program!