Crowdsourcing a healthy town in the UK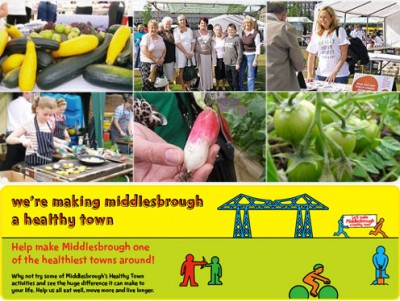 How you set a healthy standard for an entire town? How about crowdsourcing an entire town meal from food grown right in the neighborhood?
On September 26, 2009, the town of Middlesbrough, England did just that at their Town Meal festival, where 8000 people enjoyed a meal made from fruits and vegetables grown by 1000 of the town's residents. The primary purpose? To provide awareness of food miles and improve the health of the town's residents as part of its Healthy Town campaign. It's not just for healthy reasons, but economic ones too. Reports show the highest ever recorded rise in the price of food, while the cost of vegetables has risen more than 6% in 12 months.
Demonstration projects (which are all the rage with downtown street closures) are making it easier for both cities and its residents to accept progressive change. Over eight months prior to the Town Meal, the Middlesbrough city council provided locals with parkland, urban planters and other sites for urban farm growing. This year the City is stepping it up, suppying seeds, containers and 280 growing sites to 2000 individuals and groups (and counting), including 31 out of 51 schools, with 280 growing sites. Housing authorities and schools are adding their own growing sites. There's even a plan to open a restaurant supplied by community-run food co-ops.
Check out the town meal video here.
Now, imagine this campaign with a pedestrian plaza program like this one…