"Daytime nightclub" for foodies: Modern food halls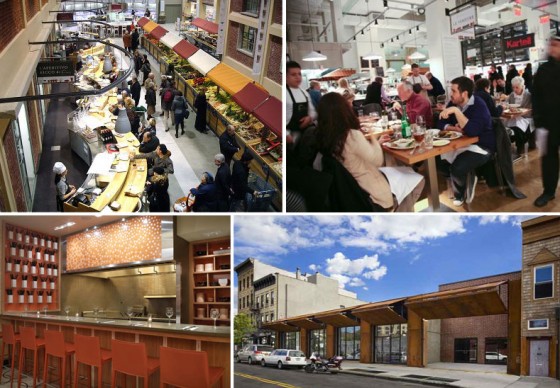 When you hear the term "food court", most of us automatically think, "fast food in a mall". What if the experience was more about slow food efficiently prepared, with a multitude of sit-down dining choices in environments designed for you to enjoy your food, sprinkled with specialty food shopping choices? Enter the "food hall".
Pioneering in New York City, a food hall can be described as a high-end food court meets a bustling European open market, specialty supermarket, and a New Age learning center. They can range in size from 5000 to 50,000 square feet, with no walls between the informal dining areas and retail, even between the "front of the house" dining area and "back of the house" kitchen.
While they're often presented as a high-end food court, it doesn't have to be. Let's look at three of them in New York City:
Eataly, Chelsea. (top two images). 50,000 s.f., opened August 2010. It was designed within the "common image of the market place of an Italian hill town", so that it feels "almost like walking into a public square. You're dining in public." Tagline: "We sell what we cook and cook what we sell."
Wyckoff Exchange, Bushwick section of Brooklyn (lower right image). 10,000 s.f. Open Spring 2011. The roll-up frontage of the building reflects the area's industrial history, while featuring locally-made foods and vegetables grown in the neighborhood's urban farms.
Plaza Food Hall (lower left image), Central Park South. 5000 s.f. It's architect designed it so that it "brings people together. There's not an awkward moment. It's the new nightclub, a daytime nightclub."