Revitalizing a struggling downtown: Crowdsource it… or not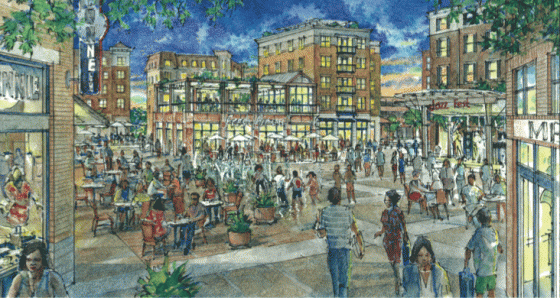 With the Village of Hempstead, Long Island, New York, when a development team implemented crowdsourcing into the development process in 2011, the Village approved it unanimously. Not so when it wasn't part of the process in 2007, which resulted in rejection.
In 2007, a development company presented the Village of Hempstead residents (pop. 53K), struggling economically at a medium income half of the immediate area, with 5200 construction jobs, 1200 permanent jobs and $35 million a year in new tax revenue. It was rejected by the residents (NY Times article). Why?
Of the 2500 condominiums and 600,000 s.f. of stores planned, too many were high-end condos priced for people who didn't live in the village, national chains were supported over local businesses, and buildings were proposed at 16-stories (most every building was no more than four stories, mostly one and two), none of which appealed to the residents. Not surprisingly, the project was shelved.
Fast forward to 2011. The same development company partners with a development firm nuanced in the practice of crowdsourcing, specifically, crowdsourced placemaking, committing that process to the triple bottom line of being economically, socially and environmentally beneficial. See "Village Downtown Gets Revised Plan in Hempstead" (pdf) in the Wall Street Journal, which mentions an upcoming August 2011 Village of Hempstead vote to approve the project, which has since passed unanimously.
What has been the focus of the local crowd through the first four monthly meetings? Jobs. New housing that people can actually afford. Public amenities and businesses that people actually want and support the local economy. Fewer high-end condos, and more "affordable by design" units that are smaller with simpler finishes and unbundled parking (saving another $20,000 per unit). Less chains and more support for existing local businesses and entrepreneurs. A focus on social public spaces like a central plaza and market square. Most of all, a sense of ownership in what's going on.
Here's the difference: The development company is committed to investing in what the crowd wants.