WalkUP Wake-Up Call' report a model for walkability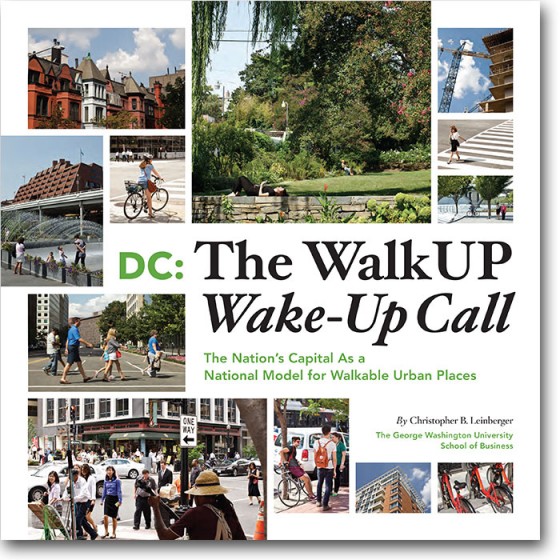 We know there's a demand for walkable communities, but what about the evidence that the demand warrants a supply/investment? Cities have been undergoing a renaissance in the past ten years, and thankfully someone produced a report providing tangible evidence that there is economic benefit to meeting this demand for walkable communities.
Using Washington DC as a case study, the George Washington University School of Business published DC: The WalkUP Wake-Up Call: The Nation's Capital As a National Model for Walkable Urban Places in 2012, authored by Chris Leinberger, Research Professor of Urban Real Estate assisted by Mariela Alfonzo of Urban Imprint. The report provides extensive findings on the economic and social viability of walkable urban places, or 'WalkUPs':
A quick review of definitions:
– WalkUPs – walkable urban places. WUPs as a term was rejected for obvious reasons.
– 'Regionally significant' and 'local serving' describe WalkUPs at the regional and neighborhood scales.
– The six different types of WalkUPs include, from the most dense: Downtowns (regionally significant); Downtown Adjacent; Urban Commercial (local serving urban); Suburban Town Center; Strip Commercial Redevelopment; Greenfield.
Washington DC Findings:
– Office space is valued 75% higher in regionally significant WalkUPs than the average of other (non-walkable, auto-oriented) places. This used to be reversed 20-30 years ago.
– For-sale housing is valued 71% higher in regionally significant WalkUPs than the average of other places. Neighborhood (local serving) WalkUPs are projected to be even higher.
U.S. Findings:
– 59% of office space today are built in WalkUPs, up from 38% in the 1990s.
– 42% of apartments are built in WalkUPs today, up from 12% in the 1990s.
– 13% of retail today is built in WalkUPs, up from 8% in the 1990s. Expect this number to rise as retailers learn to adapt to urban markets, as retail typically lags office and residential migration.
The three factors that account for 90% of the increase in DC's WalkUP economic performance:
1. Walkability.
2. Job density.
3. Workforce education.
Finally, for a better understanding of why these WalkUPs aren't being developed more prevalently (they only represent 11.6% of real estate in DC), look at the Social Equity vs. Economic Rankings graph at the very bottom. Notice that there really aren't any WalkUPs in the top right quadrant, that is, economically and socially sustainable. The main reason is the lack of housing that the middle class can actually afford… and one of the main reasons for that? New homes are bigger than the market can afford.
For a more in-depth summary of the benefits of investing in walkable communities overall, check out The Option of Urbanism: Investing in a New American Dream, also by Chris Leinberger.