Facebook invests in social networking urban village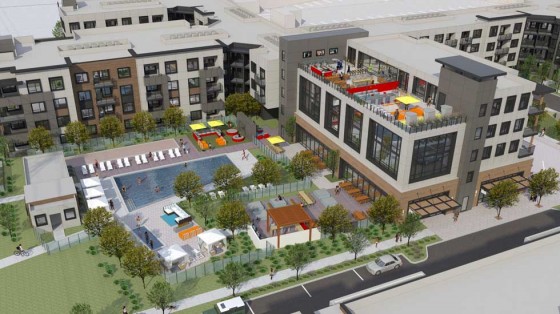 Like this! It was just a matter of time before Facebook began investing in social networking – in the physical world.
Facebook partnered with a local developer, St. Anton Partners in San Francisco, to build a $120 million, 394-unit urban village within walking distance of its offices. Known as Anton Menlo, the nearly 10-acre site hosts pretty much all the amenities a young professional would want. Facebook's "amenities team" worked with the developer to create an environment where, not surprisingly for the social networking entity, employees are encouraged to mingle and share ideas. Amenities include:
– 13,000 square feet of indoor amenities and retail
– On-site cafe, convenience store, and sports pub
– Bicycle repair shop with onsite storage
– Pet spa with doggy day care, pet walking services, dog park (for some reason, doggy day care is also the #1 most requested amenity for Zappos employees)
– Resort-inspired pool, spa and cabana area
– Indoor/outdoor wellness, yoga and training facility with personal training
– Sun lawn, game lawn and bocce ball, social lounge, and roof deck
– Rooftop entertainment deck with three-themed areas
It's a far cry from the "company towns" at the turn of the 20th century where factory workers lived in company-owned communities providing housing, health care, law enforcement and even church. One primary reason company towns disappeared was that employees began to seek separation from home and work, but then again, one-hour commutes may be just as overbearing. Thus, this is a welcome transition to a new era of work-life balance: The new development can only house a maximum of about 10% of its Menlo Park employees, and it's a five-minute bike ride along a dedicated path that runs along the San Francisco bay.
Facebook will still provide some amenities, such as a commuter shuttle, laundry and dry cleaning, and bike maintenance. The apartments will go for market rates. All but 15 of the units will be open to non-Facebook employees, which Facebook funded as low-income units. The 630,000 square-foot, 41 dwellings/acre project includes 35 studio residences, 208 one-bedroom residences, 139 two-bedroom residences and 12 three-bedroom residences,
The community is expected to open in 2015.