Pedestrian Streets in the U.S.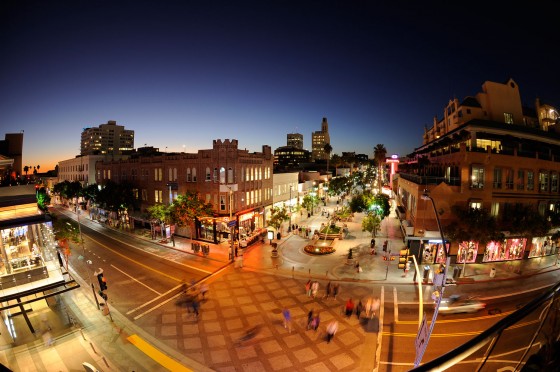 While there are several dozen entries on car free places (presented in the Wikipedia's list of car-free places in the U.S.), here's an updated list of those that relate to natural cultural districts, that is, the car-free streets that could be found in any city:
California
San Francisco – 17th Street Plaza, one block (new).
Santa Monica – Third Street Promenade, an award-winning 1/2 mile long street block of shops and restaurants that makes up the heart of downtown Santa Monica.
Riverside – Several blocks of pedestrian mall.
Colorado
Aspen – Pedestrian malls: Three downtown blocks of E. Hyman Ave., S. Mill St., and E. Cooper Ave. (pictured)
Boulder – Pearl Street Mall – Several blocks at the city center.
Fort Collins – Four streets in downtown.
Florida
Miami – Lincoln Road Mall, 7 blocks in South Beach.
Iowa
Iowa City – Pedestrian mall, several blocks downtown near the University of Iowa.
Louisiana
New Orleans – Several blocks between the French Quarter and the river.
Maryland
Bethesda – Bethesda Lane (part of Bethesda Row), a recently developed vibrant, active lane inspired by European arcades.
Silver Spring – Ellsworth Drive – The heart of downtown Silver Spring, a weekend pedestrian zone anchored by theaters and a mini plaza.
New York
Manhattan – Plazas at Times Square and Herald Square (new)
Ithaca – Ithaca Commons pedestrian mall, two blocks.
Ohio
Cleveland – East 4th Street in the Cleveland Warehouse District, highly popular restaurant/entertainment destination.
Oregon
Portland – RiverPlace, 1/2 mile downtown waterfront pedestrian promenade
Tennessee
Knoxville – Market Square, one-block downtown pedestrian mall.
Rhode Island
Newport – Bannister's Wharf, a waterfront pedestrian zone that buzzes into the night.
Texas
San Antonio – Riverwalk, famous restaurant/shop-lined on flood-controlled San Antonio River waterway.
Vermont
Burlington – Church Street Marketplace, four blocks.
Virginia
Charlottesville – Main Street pedestrian mall, several blocks.
Wisconsin
Madison State Street, six blocks, though buses, police cars and taxis are allowed.
16th Street Mall, Denver; Nicollet Mall, Minneapolis; Downtown Crossing, Boston and Fremont Street, Las Vegas; The Grove in Los Angeles; Fisherman's Wharf in San Francisco and the myriad Cornish 'Live!' entertainment districts are more corporate scale, chain-driven pedestrian districts, but pedestrian only nonetheless.
Image: Third Street Promenade, California