Crowdsourced resource for innovative 'legacy city' placemaking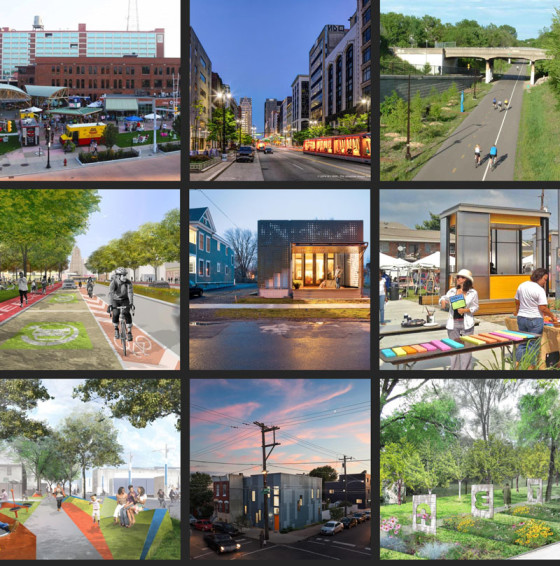 While cities that lost more than 50% of their population since their peak, known as legacy cities, face many challenges, they have also experienced many design and innovation breakthroughs. Thankfully, those positive achievements are being documents via the crowd on a new website known as the Legacy City Design Network.
The site was created by the J. Max Bond Center on Design for the Just City (JMBC) at The City College of New York School of Architecture. It not only provides extensive case studies on some of the most inspiring placemaking projects in legacy cities, it also "connects professionals working in legacy cities, hosts gatherings, advocates for innovative design, and develops new solutions through research and pilot project collaborations". It's goal is to "inspire ideas and creative development for confronting a wide range of physical and socioeconomic challenges".
Of course, it's best feature is that you can submit your own legacy city innovation case study on the site right here.
Legacy city case studies, predominantly in the eastern half of the U.S., currently include:
New York
Buffalo, NY: Larkin District Plan Update
Buffalo, NY: Scajaquada Expressway
Syracuse, NY: Movement On Main: Light-Play!
Syracuse, NY: From The Ground Up Competition
Niagara Falls: Niagara Falls Riverway Project
Utica: Harbor Point Development
Rochester: Rochester Downtown Innovation Zone
Michigan
Detroit, MI: M-1 Rail
Detroit: Midtown Detroit Techtown District Plan
Detroit: The Alley Project (TAP)
Pontiac: Lafayette Place Lofts
Pontiac: Strand Theatre For Performing Art
Saginaw: Obsolete Property Rehabilitation Act
Warren: Apple River State Bank Restoration
Minnesota
Minneapolis: Midtown Greenway
Louisiana
New Orleans: La Salle Street Market
New Orleans: Livable Claiborne Communities Study
Pennsylvania
Philadelphia: 100K House
Pittsburgh: Bakery Square 2.0
Missouri
St. Louis: Sustainable Land Lab Competition
St. Louis: Delmar Loop Area Retail Plan & Development Strategy
Ohio
Cleveland: Cleveland Opportunity Corridor
Cleveland: Cleveland Velodrome
Connecticut
New Haven: Downtown Crossing
Hartford: The Grand
New Jersey
Trenton: PSE&G Solar Project
Georgia
Macon: The Macon Action Plan [MAP]
Alabama
Birmingham: Railroad Park
Indiana
Gary: Vacant To Vibrant
Virginia
Richmond: Richmond Riverfront Master Plan
West Virginia
Charleston: Slack Plaza