Restaurant trends for 2009, creatively speaking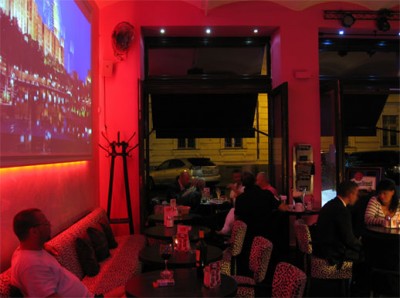 How is creativity helping restaurants thrive in this economy? According to Technomic, a leading food-industry consulting and research firm, here are the leading restaurant trends for 2009:
1. Experimentation/innovation: "Look for new menu items, kinds of service and pricing policies. Restaurants will be designed differently, too." Restaurants can't just sell food to survive anymore, they need to provide experiences. Busboys & Poets in Washington DC is a great example, combining a restaurant, bar, lounge, bookstore and theater in one venue.
2. Regional ethnic: "To stand out, restaurants will focus on cuisines from smaller areas – southern Mexico, Piedmont, Italy. You'll also see fewer "Asian" restaurants and more country-specific fare, like Korean and Vietnamese." Diversity is a necessary ingredient in creative economies, and as cities become more diverse, so will the restaurants. Online communities around niches (thanks to the Long Tail) allows such country and region-specific to thrive.
3. Local, local, local: "It's the magic word for independent operators – diners want their ingredients locally sourced. The chains can't compete on this point." That's what this site is all about, in the name of authenticity. Read how local businesses give back 70% more than chains and how they can compete with chains.
4. More serving-size options: "Restaurants will tempt you with all sorts of arrangements: small plates; prix fixe dining; shareable, family-style platters; and bar menus." Again, diversity, this time economically, especially to avoid having a group of people identifying one restaurant to go to, and having it vetoed because one person can't afford any of the menu options.
Do you see these trends taking place in your community? Comment below (no registration required).
Photo: Cafe Wow in Prague, Czech Republic by laurayluis